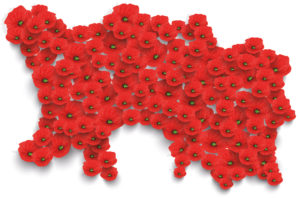 The Poppy Appeal is the Royal British Legion's biggest fundraising campaign held every year in November, the period of Remembrance. Join us as we show our appreciation and remember all those who served and sacrificed, and help us to help those who suffer as a result of that great service and sacrifice. Poppies and other fundraising items will be on sale at Piquet House, Royal Square, at our Parish Hall events, and individually from our many volunteers.
2019 Jersey Poppy Appeal
With your help we have raised an incredible £208,000 during the 2019 Jersey Poppy Appeal. Thank you so, so much for your support.
"We want to thank the people of Jersey for their amazing generosity. At the beginning of the appeal the appalling weather had seriously affected our fundraising efforts. We were significantly down on last year's figures and worried that we wouldn't be able to fund important support services for veterans and their families. However, thanks to islanders really pulling together and showing their community spirit, in addition to the fantastic work of our fundraising team and some very generous donations, we have had another fantastic year. We couldn't be any more proud of our islands." – Poppy Appeal organiser Alison Opfermann
"It is vitally important that we continue to raise funds that give veterans, current service personnel and their families the welfare support they desperately need. Over the past year, our welfare services have helped many islanders whether it's by talking through issues they're experiencing, providing financial assistance when they need it, or ensuring they have necessary medical care. It's why we're so very grateful to islanders and local businesses for their continued support." – RBL Jersey Chairman, Tim Daniels
Recycled Poppy Scheme
For the second year running, the Channel Islands Co-operative Society also agreed to be the sole collector of used poppies for the Recycled Poppy Scheme, which sees thousands of paper and plastic poppies sent to the RBL village in Kent for recycling by inmates of a nearby prison.
Ell Hopton, Community Manager for the Channel Islands Co-operative Society, said: "We were delighted to support the Royal British Legion's poppy recycling scheme for the second year running, which not only helps eliminate single-use plastics but also saves vital funds for the RBL. It is fantastic that this year's Poppy Appeal has raised more than £200,000 and, as a community retailer, we are more than happy to continue our support for such a good cause."