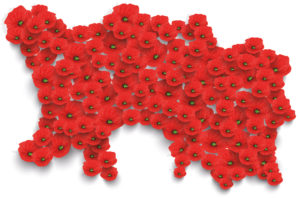 The Poppy Appeal is the Royal British Legion's biggest fundraising campaign held every year in November, the period of Remembrance, raising vital funds to help the Armed Forces community. Join us as we show our appreciation and remember all those who served and sacrificed, and help us to help those who suffer as a result of that great service and sacrifice. This year, we remember our Liberation from Occupation and all those who served and defended us in the Battle of Britain above our own shores, in the Battle of Dunkirk, and in the Far East campaign which brought peace to all on VJ Day in 1945.
Support the 2020 Poppy Appeal. Every Poppy counts.
Tax Rebate
We are able to reclaim Jersey tax on any gift over £50, if you are a Jersey tax payer.

Ways to help
Donate
Visit the Poppy Shop at 51 King Street for poppies, pin badges and other fundraising items from Friday, 23rd October to Saturday, 7th November from 10am to 4pm
Visit the Central Market for poppies and pin badges from Saturday, 24th October
Buy a poppy or pin badge from your Parish Hall