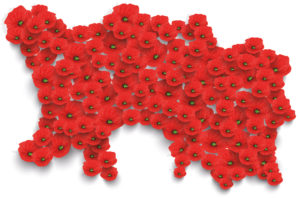 The Poppy Appeal is the Royal British Legion's biggest fundraising campaign held every year in November, the period of Remembrance, raising vital funds to help the Armed Forces community. Join us as we show our appreciation and remember all those who served and sacrificed, and help us to help those who suffer as a result of that great service and sacrifice. 
Tax Rebate
We are able to reclaim Jersey tax on any gift over £50, if you are a Jersey tax payer.
Fundraising
There are many other ways for you to give to The Royal British Legion. From regular giving by direct debit, to organising your own fundraising event, or volunteering with us during the Poppy Appeal – there really is something for everyone. If you're interested in giving or finding out more information about giving please fill out the
contact form here
.