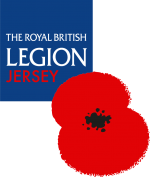 Watch the Lieutenant
Governor's message
To the memory of the fallen and the future of the living
Financial, social and emotional care and support to members and veterans of the British Armed Forces, their families and dependants.
Watch the Lieutenant Governor's message
Welcome to the Jersey Branch of
The Royal British Legion
The Jersey Branch meets on the last Thursday of each month at 6pm with the exception of June, July and August at Legion House, 2-4 Great Union Street in St Helier.
Membership is open to everyone with an interest in the objectives of the Legion that wants to help and offer support for those who have served and their families.  So come and join us, we welcome men and women of all ages, whether they have served in the Armed Forces or not.
Don't face your battles alone. The support that the Royal British Legion offer can be life-changing.
Challenges ahead can be greater than those left behind. The Royal British Legion is there to support you and your family.
We are proud to have served our country but don't be too proud to ask for support. The Royal British Legion is there for you.
You leave the Army but it never leaves you. If you are still facing battles, The Royal British Legion can support you.
If you are fighting your own battles on civvy street, know that you are not alone. The Royal British Legion can support you.
Civvy Street can be tough. If you have a loved one who is struggling, The Royal British Legion has the resources and support that you need.
In the Forces we had each other's back. The same goes now. The Royal British Legion can stand with you and get you the support you need.
Men and women serve in frontline combat roles. We all sometimes need support. the Royal British Legion is there for you.
The Royal British Legion family offers support in many different ways. Whatever you need is just a phone call away.
Legion membership ensures that
Remembrance is kept alive and that the sacrifices our brave Service men and women have made are never forgotten.
The ex-Service community have an informed voice and that their concerns are brought to the public eye.
Becoming a member also provides the opportunity to get involved in a wide range of activities and events held locally, regionally and nationally throughout the year.
If you wish to contact us or to report any inaccuracies or omissions on this site, please email us at info@rbl.je